The Media Doctorz Que Johnson Headlines the Good Life Tour while Peggy Riggins Command That Room in this week's Media Doctorz News
The Media Docz Founders Nakita Nicci and Que Johnson are known for there distinctive style in the world of media, but very few are aware of there branding style.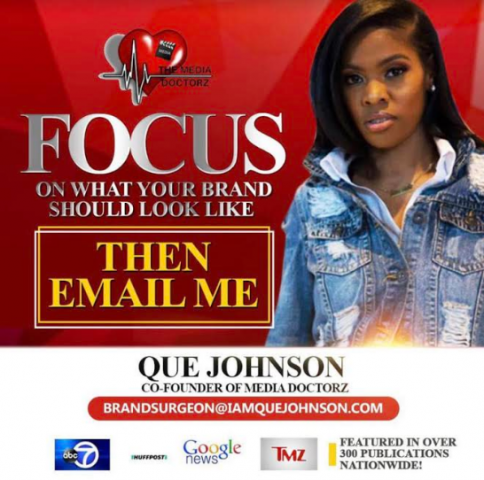 Television personality and Certified Media Coach Nakita Nicci has a unique technique to get her clients featured in top publications across the world and Co-Founder Que Johnson, The Brand Surgeon showcase her Branding methods that are non traditional and non conventional. She doesn't allow anyone to put her clients or herself in a box! Which caught the eye of Peggy Riggins creator of Command That Room which focuses on stepping up to the mic and leaving a memorable impact! As Que was Peggy Riggins featured speaker at the most recent co-hort of her program Que did just that!
Now on The Good Life Global "Business, Brands & Bosses Tour created by Joan Wright Good set your commence later this month. Que methods will be shared on this multi city tour along side with Terisha Bennett Lee and Gicele Gigi Wray – Lindley to name a few changing the game in Branding!
Media Doctorz client Jeri Toliver, CEO of Flyycredit is set to host Credit and Creations on October 19th. CreditandCreations.com will showcase industry leaders who will show techniques on how to secure up to 2 million dollars for their businesses while enjoying fine wine and an once in a lifetime painting experience.
For more information please visit CreditandCreations.com.
Media Contact
Company Name: The Media Doctorz
Contact Person: Nakita Nicci
Email: Send Email
Address:411 E 35th
City: Chicago
State: Illinois
Country: United States
Website: http://www.itsnakitanicci.com/