UAE Skills Represent The Best Of Online Content Creation In The Arab World
Mohammad left his government job a few years ago to build a business. Overcoming several challenges, he now has more than 2 million followers on social media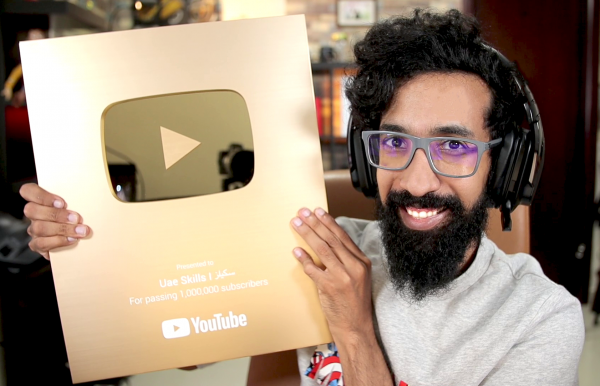 Mohammad Alkaabi AKA UAE skills have become a phenomenon in the Arab world. From his humble beginning, the gamer, video editor, and content creator have always looked for ways to deliver quality content that best represents what the Arab world has to offer.
With 1.6 million subscribers on YouTube alone, UAE Skills have been able to deliver exceptional content with high value, especially for PUBG Mobile, Call of Duty Mobile, Counter-Strike, game lovers.
He's a creative person that continues to re-invent himself to inspire everyone that follows him online.
To learn more about UAE Skills, please visit here.
In 2017, UAE Skills left his government job to start his own business. His goal is to become an entrepreneur with an enterprise that can generate income so that he can be financially free.
However, things didn't work well for him when he started as his videos were not getting the attention it deserves. Mohammad didn't give up; he kept working hard by creating more videos and building his profile. For a while, he worked as a freelance video editor to generate income that he can use to run his show.
Things took a better turn for him when his videos started getting massive attention in 2018. Today, he has more than 2 million followers on all of his social media platforms, most of which are people within the Arab world. He has collaborated with big brands like Pringles, Horse Power, and Facebook Gaming for some of his projects.
All of his content, gaming, comedy, and more are targeted at the Arab world, in a way they can easily relate with. He's been a source of happiness for many, and he represents everyone to the full.
UAEskills wants to use his story to inspire young people in the Arab world and across the globe. He believes that anyone, especially young people, can achieve anything they want if they put their minds to it. That is why he uses his content to inspire them and advise them to take steps to make their lives better.
You can also connect with UAEskills on Social media:
YouTube: https://www.youtube.com/c/UaeSkillsFilms
IG: @uaeskills
Facebook: @uaeskillsshow
Twitter: @uaeskills
Media Contact
Company Name: Gedget For Games
Contact Person: Mohammad Alkaabi
Email: Send Email
Phone: +971585209699
Address:Muhaisnah 1
Country: United Arab Emirates
Website: youtube.com/c/UaeSkillsFilms