SpectrumX – First Commercial Agreement Secured for Alcohol-Free Hand Sanitiser
SpectrumX, a healthcare and pharmaceutical company based in the UK, announces that it has secured its first commercial agreement for its alcohol-free hand sanitiser, Spectricept Care+, with St Andrew's Healthcare, a leading mental healthcare charity affiliated with the NHS based in Northampton. After a highly successful pilot programme, St Andrew's reached an agreement with SpectrumX to launch the product across its four locations in Northampton, Birmingham, Nottinghamshire, and Essex, which employ approximately 4,000 staff. The hand sanitiser is a non-skin-irritant, high-level disinfectant in a portable spray bottle, with the active ingredient being SpectrumX's patent-pending, stabilised form of hypochlorous acid (HOCl), effective against bacterial spores, viruses, fungi, and yeasts on skin.

The hand sanitiser was evaluated on usability and feeling, with the majority of respondents stating that the product was "easy to use" (97%) and spread easily across their hands (95%). Staff liked that the sanitiser was in spray form (87%), their hands "felt decontaminated" (84%) after using the product, and that the bottle came with a D-ring key fastening for safety, which can securely attach to staff belts. With the success of the evaluation at St Andrew's, SpectrumX is poised to improve the hygiene practices and safety of patients and staff across a variety of healthcare facilities across the UK.
Using non-alcohol hand sanitisers is particularly important in mental health facilities, where intentional ingestion of alcohol-based hand sanitisers is a growing concern. According to reports published in BJPsych Open, patient access to ethanol- or isopropanol-based hand sanitisers poses a significant safety risk of diversion and abuse. Effective, non-alcohol alternatives like Spectricept Care+'s HOCl-based formula, provide a much-needed solution to hand hygiene in mental healthcare settings.
Damien Hancox, CEO of SpectrumX, said: "We are thrilled to have secured our first commercial agreement for our alcohol-free hand sanitiser with St Andrew's. This is a significant milestone for SpectrumX and, considering St Andrew's size, reach and NHS affiliation, enables us to make a real difference in improving hand hygiene, in mental healthcare settings, where safety is paramount. We look forward to working with the St Andrew's team, to roll out Spectricept Care+ across all of their locations, and to building on the momentum we are creating to reach all of the UK's 1.3 million-plus healthcare professionals providing direct patient care across England and the wider UK with a product we believe outperforms other options hitherto available on the market."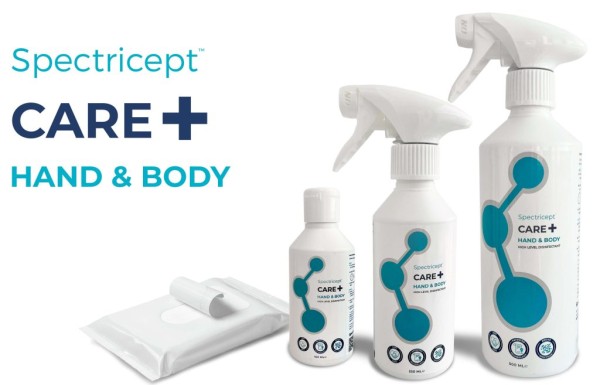 Pixy Strazds, Deputy Director of Infection Prevention and Control at St Andrew's Healthcare, said: "We are pleased to onboard Spectricept as our new hand rub solution. With its unmatched efficacy, Spectricept's non-alcohol formula is crucial for us, given the concerns around alcohol-based sanitisers in mental health facilities. We found the product to be kind on skin, easy to use, with no build-up, making it a perfect solution for our staff. The successful evaluation has shown that the product has helped retain good hand hygiene compliance, ensuring the safety of our patients and staff. We look forward to continuing our partnership with SpectrumX to advance hygiene practices in our organisation."
Greg Whelan, Group Sales Director, commented: "I am delighted we have reached agreement with St Andrew's for our alcohol-free sanitiser. With the strength of our sales team and the efficacy of our unique HOCl formulation, I am certain this agreement is only the beginning of SpectrumX's role in providing innovative solutions within the healthcare sector.
For Investors
SpectrumX is currently conducting a pre-IPO capital raise in advance of a planned listing on the London Stock Exchange. The company has received advance assurance from HMRC for potential investor tax reliefs under the Enterprise Investment Scheme ("EIS"). Interested prospective investors can learn more at https://spectrumx.com/ and by selecting the Investor Relations box in the menu.
About SpectrumX
SpectrumX is a UK-based healthcare and pharmaceuticals company focused on bringing to market an innovative respiratory infection therapy and the roll-out of the most powerful hand sanitiser in the world to the NHS and other healthcare clients. Both products utilise unique, patent-pending HOCl formulations. HOCl is naturally occurring in human white blood cells and is a key contributor in the immune response to infection. HOCl also has direct killing activity against bacteria, viruses, and fungi. It is well-tolerated in humans while also being the most effective known disinfectant when used on surfaces. For more on SpectrumX, visit www.spectrumx.com. For investors, select the Investor Relations box in the menu.
Media Contact
Company Name: SpectrumX
Contact Person: Shawn Wakefield
Email: Send Email
Phone: (0)7399 969647
Country: United Kingdom
Website: https://www.spectrumx.com