Kabana Club Enters Last Phase of NFT Minting, 400 WL Spots Left for Game Token
Kabana Club has announced the last phase of its exclusive NFT minting club, where everyone can own NFT property. The club offers a unique opportunity for those interested in the real crypto world to explore and participate in the development of crypto, NFT, and blockchain in general.
Kabana Club believes that a paradigm shift is taking place in the field of NFT, similar to the theoretical shift suggested by Terrence McKenna's Stoned Ape hypothesis. According to this hypothesis, psychedelic mushrooms played a crucial role in early human consciousness, development, and culture. McKenna even suggests that language can be traced back to mushrooms. Kabana Club sees its NFT as representative of this transformation, offering a new world where NFT is commonplace and recognizes the value of cryptocurrencies and digital assets today.

Kabana Club is in the last phase of minting NFTs, with only 400 whitelist spots left for the game token. So far, Kabana Club has already sold most of their NFTs successfully, and the last minting phase will be a huge success, thanks to the Kabana community and the devs.
Check out the Kabana Club's OpenSea NFT collection at https://opensea.io/collection/kabanaclub.
As the minting is ongoing, Kabana Club is also offering a contest to the minters whereby they were rewarded in Matic. Details of the contest are as follow: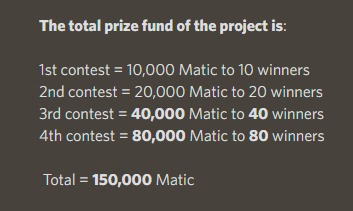 70 winners have already been rewarded and the 4th contest is ongoing at the moment.
An Overview of Kabana Ecosystem
Mining and Staking LP
Kabana Club NFTs tend to stand out. This uniqueness comes from the NFTs having great monetary value as well as utilities. Kabana Club NFTs provide users a chance to mine tokens by staking their NFT mushrooms.
Staking just 1 of these NFTs yields 444 LP tokens in one day. There is no limit to the number of NFTs that can be staked and the earned amount can be transferred to the user's wallet at any time.
Under the staking contract, minted LP tokens can be staked for further rewards. Users can combine both mining and staking contracts to make the most out of their investments.
Decision Game and Token Contract
Kabana Club offers a betting game to its users. Individuals can compete with other users by betting the same amount of tokens on the Blockchain. LP tokens are utilized for the bets and MATIC tokens are for paying the gas fee. The game token is created using a simple ERC20 smart contract.
Where does the money come from?
The game token has a restricted supply with most of the tokens being locked inside a mine. A restricted supply simply means that no new tokens can be minted and released.
A controlled and limited token supply together with a high demand for the game token helps create a surge in its price.
Deflation
The project has a distinctive deflationary mechanism. It imposes a 10% tax on each finished game. 6% of the total tax is used for burning, 3% for staking, and 1% for development.
Closed Club of Crypto Enthusiasts
There is a cap on the number of people who can join this exclusive club, and each member is represented by a different NFT mushroom. Although it might seem impossible, the Kabana Club ecosystem's creators believe in bringing together intelligent, creative people who are willing to push boundaries and consider novel development strategies. The club's main objective is to establish a solid base of intelligent, ideological supporters of decentralization. The Kabana Club project incubator's NFT mushroom acts as an automatic whitelist for all presales of projects in this wholly decentralized environment. When the necessary KYC procedures are followed, Kabana Club members can incubate projects.
Incubation and Incubator
The Kabana Club Incubator provides a platform for startups to grow and succeed. By joining clubs and incubators, members gain access to free or low-cost workplaces, mentoring, expertise, and potentially access to investors and working capital in the form of loans. The incubator is a partnership sponsored by the founders of the Kabana Club ecosystem, which supports the idea of decentralization. Each member has the opportunity to incubate projects with proper KYC, so all projects incubated in the Kabana Club incubator are automatically whitelisted.
The incubation process consists of four stages: preparation, illumination, incubation, and verification. During preparation, the entrepreneur defines the problem and consciously tries to solve it. Illumination involves moments of insight when a solution is discovered. If a solution is not found, the entrepreneur enters incubation, where the conscious work stops, but the unconscious work continues. Finally, verification is performed to improve and confirm the solution. By joining the Kabana Club Incubator, startups can use these four steps and have a better chance of succeeding in the real crypto world.
Tokenomics
Kabana Club provides more than simply a trendy collector NFT. Each NFT symbolizes a Kabana Club membership and gives exclusive access to events, control over project direction, and early exposure to new initiatives in the club ecosystem. The Kabana Club NFTs also provide staking incentives for long-term holders and active community members.
Kabana Club's Game token is a crucial element in its ecosystem, with a total supply of 1 billion tokens distributed among various groups. To encourage participation and contribution, 500 million tokens will be available in a public presale, and the remaining 500 million tokens will be added to the initial DEX liquidity. The limited supply and long mining period of the 4444 NFTs add value to them, with proceeds from sales going towards supporting the Kabana Club incubator. The Kabana Club tokenomics create value for all stakeholders and incentivize community participation.
Contracts Ecosystem of Kabana Club
In total 7 contracts work in tandem to support the Kabana Club Ecosystem.
1. Mushrooms Contract (ERC-721)
This contract contains a variety of use cases, mainly by providing early access to game tests and ecosystem tests, mining game token, community airdrop, entry into the closed crypto club and more
2. Coins Contract (ERC-1155)
Some of the use cases of this contract are access to original source of information, beta tester pass, in-game avatar, rewards for test participation and more
3. Mining Contract
This has been explained in the above paragraphs
4. Staking Contract
Also explained above
5. Battle Contract
The primary use of this contract is to bring your battle to the blockchain. All functions related to the game such as creating games, game stats and awarding rewards on wins and deducting a 10% fee on every win that further contributes to stakers and burn as well
6. Game Token Contract
This is the main contract for DECISION Game. No one has ownership rights to the contract, not even the creator thereby it is safe from any amends.
7. Team Vault Contract
This contract is necessary to financially support the Kabana Club Ecosystem over its lifetime and keep it sustainable. Only 1% of token flow from Battle Contract will be sent here that will support the servers, employee expenses, marketing, bandwidth and whatever expenses needed to support the ecosystem.
Conclusion
Kabana Club offers a new world where NFTs are commonplace, recognizing the value of cryptocurrency and digital assets in modern society. The club is limited to 4444 members, and each member can mint multiple mushrooms, offering a unique chance to be part of an exclusive club of crypto enthusiasts. The entrance to the club is limited, and individuals need to pass through a filter to finally decide whether they need it or not. Kabana Club is inviting people to be part of its universe, where it is working to create a new world where everyone can own NFT property.
Furthermore, potential investors and cryptocurrency enthusiasts interested in Kabana Club can visit the project's official website or check out their social platforms for more details.
For those interested in the DECISION game of Kabana Club, there is a WL competition ongoing and you can compete in it by clicking on the following link
Disclaimer:
The information provided in this release is not investment advice, financial advice, or trading advice. It is recommended that you practice due diligence (including consultation with a professional financial advisor) before investing or trading securities and cryptocurrency.
Media Contact
Company Name: Kabana Club
Email: Send Email
Country: Estonia
Website: https://kabana.club/