Premiere For The New Beatles Fan Club Book, Dear Beatle People, will be at The Fest For Beatles Fans in Jersey City, NJ, March 31 through April 2, 2023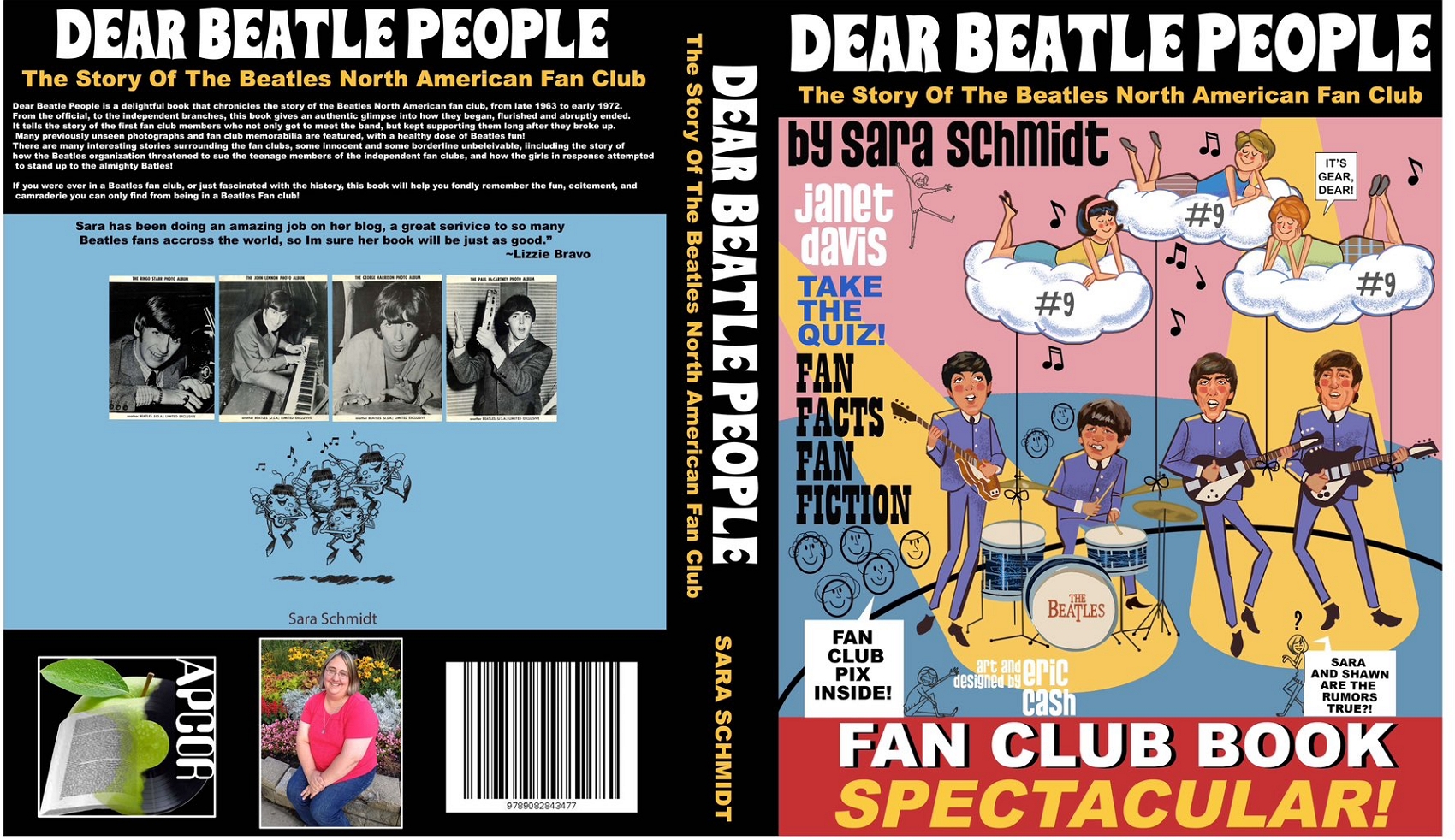 In Beatles group news, a new Beatles fan club book, Dear Beatles People, will premier at The Fest For Beatles Fans in Jersey City, NJ starting March 31, 2023.
Jersey City, New Jersey – The long-awaited ultimate Beatles fan book, Dear Beatles People, by Sara Schmidt, is to be premiered at The Fest For Beatles Fans at the Hyatt Regency Jersey City on the Hudson, Jersey City, NJ, from March 31 through April 2, 2023.
Dear Beatles People (ISBN: 978-1-946182-25-8) is the never-been-told story of the Beatles fan clubs in the United States and Canada from 1963-1972, including the unsavory account of how the Official Fan Club attempted to sue the independent fan clubs.
There have been thousands of Beatles books written since 1964. Their music and lives have been analyzed and dissected more than any other group of four men in history. Dear Beatles People, however, does not focus on the Beatles' music or their lives. It is the story of the Beatle's fans and fan clubs across North America and how while being mostly teenagers, they were able to organize and run successful fan clubs. These are stories of fan club members who met The Beatles. When The Beatles stopped touring, the fan club members traveled to London. Many met John, Paul, George, and Ringo outside the recording studio and their homes.
The book's author, Sara Schmidt, also authored Happiness Is Seeing The Beatles: Beatlemania in St. Louis (2016), featured on Fox 2 News Morning in St. Louis television broadcast, NPR Today in St. Louis with Don Marsh, and The Riverfront Times.
She is a contributing author to volumes 2 & 3 of A is For Apple and wrote the forward to Do You Promise Not to Tell by Pat Mancuso. She wrote the articles "10 Things You Don't Know About the Apple Scruffs" for Rebeat magazine and "Rubber Soul Deep Dive: The Word" for The Fest For Beatle Fans blog. She is the creator of the website "Meet The Beatles…For Real," where she regularly writes articles and reviews.
Sara has given presentations and participated in and moderated panel discussions at the Fest for Beatles Fans in Chicago, New York, New Jersey, and virtually. She was a presenter four years in a row at the Beatles at the Ridge Festival in Walnut Ridge, Arkansas. She was the 2018 recipient of a research fellowship to the Rock and Roll Hall of Fame Archives and Library from the Center for Popular Music Studies at Case Western Reserve University. Her first book was accepted into the Rock and Roll Hall of Fame library.
For twenty years, Sara has worked as an elementary school reading interventionist. She is the sponsor of the school's Young Authors club. She holds a master's degree in Elementary Reading plus a certification in dyslexia. She has twice presented at the National No Child Left Behind Conference.
Dear Beatles People is published by the Texas Book Publishers Association.
(http://texasbookpublishers.org), Houston, Texas, and distributed through Ingram Book Company and will be available for purchase on April 3, 2023, through most major book retailers, including Amazon, Barns & Noble, Books-A-Million, Wal-Mart, Target, and Bookshop.org: Dear Beatles People, hardback case laminated (ISBN: 978-1-946182-25-8, $69); perfect bound softcover paperback (ISBN: 978-1-946182-26-5, $49).
About The Fest For Beatles Fans
The Fest For Beatles Fans is the ultimate annual celebration of those four lads from Liverpool who took America by storm nearly 60 years ago. Now in its 49th year, The Fest was launched in New York City in 1974 when founder Mark Lapidos thought of the idea for a 10th Anniversary Celebration of The Beatles' arrival in America. He went to John Lennon and received his blessing, who said, "I'm all for it. I'm a Beatles fan too!"
Ever since that first Beatlefest (as it was called then), The Fest remains the largest and longest-running celebration of The Beatles anywhere in the world and will return to the Hyatt Regency Jersey City on the Hudson for three days of peace, love, and Beatles on March 31, April 1 and April 2.
A lineup of Special Guests includes Pattie Boyd, Peter Asher, Mark Rivera, Terry Sylvester, Joey Molland, Mark Lewisohn, Jay Bergen, and musical performances by Liverpool, The Weeklings, and many others!
For tickets, full details, and guest bios, go to http://www.thefest.com OR call 1-866-THE-FEST
Media Contact
Company Name: Texas Book Publishers Association
Contact Person: Dino Price
Email: Send Email
Phone: (281) 438-7500
Country: United States
Website: www.texasbookpubishers.org/