"Jade's Food for Thought" Book Signing & International Food Tasting Announced by Author Katherine Cheng-Arif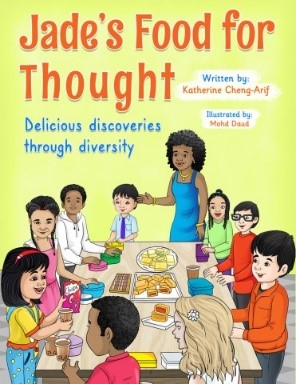 "A long overdue book to celebrate cultural diversity," Dr. Melissa Caudle, media influencer and bestselling author.
A Children's Book Launch, Signing, Entertainment, and International Tasting Event showcasing "Jade's Food for Thought."
Houston, TX, USA – May 18, 2023 – Katherine Cheng-Arif, author of "Jade's Food for Thought: Delicious Discoveries through Diversity," promotes cultural appreciation and diversity. Cheng-Arif, used her personal experiences to write the book for underrepresented individuals. "As a child, the library lacked books with main characters that look like me," Cheng-Arif said. "In my elementary days, there were very few opportunities to talk about culture and to celebrate the differences as people." Cheng-Arif chose food as the main component of her new book. Cuisine is a major cultural identifier and is one of the points of entry many people have to a new culture. Cheng-Arif knows how difficult it can be for a child to share their heritage through food. She experienced weird looks and negative comments at school while eating sushi from her packed lunch. Cheng-Arif felt ashamed and ate lunch alone, resulting in her becoming more introverted. Turning bad experiences into positive ones, Cheng-Arif, crafted a delightful book to celebrate cultural appreciation and differences.
In a heartwarming event, author Katherine Cheng Arif brought her book, "Jade's Food for Thought," to the local elementary schools, Liestman and Martin, in Alief ISD. With a generous donation of over 300 books, she provided not only a tangible gift but also an opportunity for inspiration and learning. The visit aimed to encourage the entire 3rd-grade class, allowing them to ask questions and delve into the "why" behind the story. This act of kindness and engagement nurtured a love for reading, fostered curiosity, and sparked imaginations, leaving a lasting impact on the students and their educational journey.
ABOUT THE BOOK
"Jade's Food for Thought: Delicious Discoveries" through Diversity tells the story of Jade, a young Taiwanese girl whose family immigrated to the US. Jade is proud of her Taiwanese culture and shares it with her new school friends. The children learn about different aspects of Jade's heritage and celebrate the diversity between them.
Video Link: https://youtube.com/shorts/MxBmW40JREw?feature=share
Book Launch Details
To celebrate the successful launch of "Jade's Food for Thought," a launch party is set and will take place at:
Signature Manor
6968 Howell Sugar Land Rd
Houston, TX 77083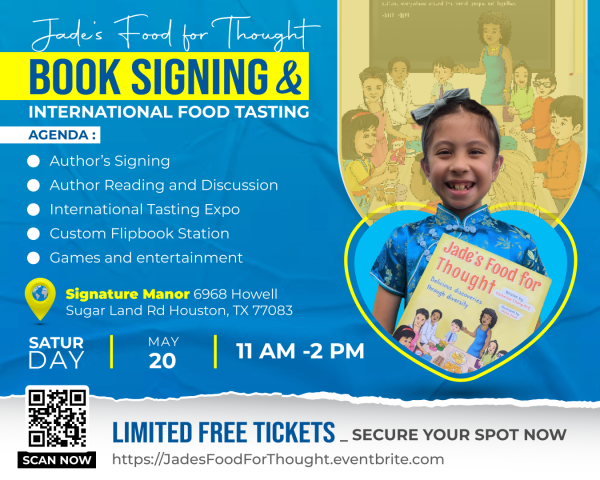 RESERVE YOUR TICKETS TODAY!
https://JadesFoodForThought.eventbrite.com
Event Highlights:
* Book Launch & Signing: Meet Katherine in person, get your copy of "Jade's Food for Thought" signed, and receive exclusive insights into her creative process.
* Global Tasting Journey: Embark on a gastronomic adventure, savoring a medley of international flavors that will transport your taste buds to distant lands.
* Author Talk: Immerse yourself in fascinating discussions with Katherine as she shares the inspiration behind her book and the stories that influenced her diverse culinary explorations.
* Live Readings: Experience the magic of the author as she brings her words to life through captivating live readings.
* Networking & Community: Connect with fellow book lovers, food enthusiasts, and literary enthusiasts, forging connections and fostering a sense of community.
"Jade's Food for Thought: Delicious Discoveries through Diversity" is available on Amazon. The children's book was illustrated by Mohd Daud. Learn more about Katherine Cheng-Arif by visiting the Women's Inflection Point.
Media Contact
Company Name: Katherine Cheng-Arif
Contact Person: Media Relations
Email: [email protected]
Country: United States
Website: Kycabooks.com
Media Contact
Company Name: Absolute Author Press Distribution Services
Contact Person: Katherine Cheng-Arif
Email: Send Email
Phone: 571-358-0250
City: Houston
State: Texas
Country: United States
Website: Kycabooks.com