Purrfect Grooming Launches New Mobile Pet Grooming in Broward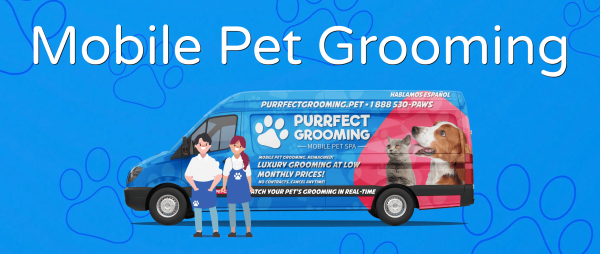 Introducing Purrfect Grooming – New Mobile Pet Grooming in Broward, Florida – Purrfect Grooming, the ultimate destination for your furry friends' grooming needs, announces the launch of its new mobile pet grooming service in Broward County.
As people with pets, we know how important it is to take good care of them. Our furry friends deserve the best care possible! Purrfect Grooming's mobile pet grooming service caters to pet owners seeking a personalized, stress-free grooming experience for their fur babies.
At Purrfect Grooming, we understand the trust you place in us when we come to take care of your pet. That's why we go above and beyond to ensure your pet is always in good hands. Our team of highly qualified groomers has years of experience and a true passion for animals. Not only are they certified, but they are also pet lovers at heart, so you can be sure that your furry friend is in caring hands.
Purrfect Grooming is proud to offer a pricing structure and maintenance program that sets us apart from other pet grooming companies. Unlike other companies, we include de-matting, de-shedding, haircuts, and teeth brushing for free at an affordable price. Our maintenance program ensures regular grooming visits every 4 weeks, eliminating the need for rescheduling and providing a hassle-free experience. There are no long-term commitments or contracts, and you can cancel anytime. We only charge after the service is complete, ensuring your satisfaction. Experience exceptional value and convenience with Purrfect Grooming.
Our new mobile pet grooming service brings the salon to your doorstep with our customized grooming van, equipped with the latest state-of-the-art grooming tools and products.
"We believe in providing a comfortable and convenient experience for pets and their owners," said the owner of Purrfect Grooming. "Our mobile cat grooming service offers unmatched convenience and eliminates the hassle of hauling your pet to a grooming salon, saving you time and stress!"
Purrfect Grooming's mobile pet grooming service offers a range of services, including haircuts, bathing, nail trimming, ear cleaning, and more. The service is backed by a team of experienced and qualified pet grooming professionals who ensure that your pet's grooming needs are met with the highest standards of care and quality.
For pet owners looking for a hassle-free grooming experience, Purrfect Grooming's mobile pet grooming service is the ideal choice. Contact us today to schedule an appointment.
Media Contact
Company Name: Purrfect Grooming
Contact Person: Danilo Varriale
Email: Send Email
Phone: 1 (888) 530-7297
Country: United States
Website: https://purrfectgrooming.pet