Noeul's Latest Single 'Love Geometry' Takes the Music Scene by Storm, Soaring to the Top of Charts
Noeul, the highly acclaimed musician, is thrilled to announce the exceptional performance of their latest single, "Love Geometry." Within just one day of its release, the single has achieved remarkable success, skyrocketing up the charts on popular music platforms in China.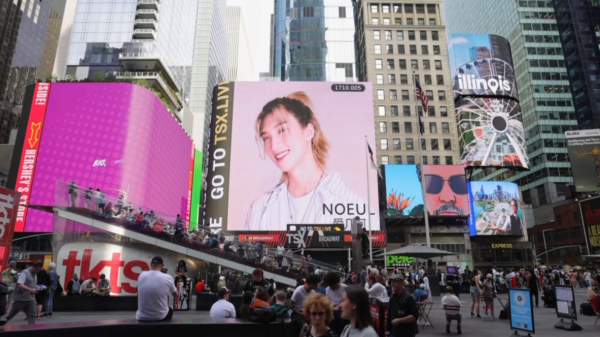 "Love Geometry" has captured the hearts of music lovers nationwide, leading to an impressive ascent on prominent music streaming platforms. Within a mere 24 hours, the single climbed an astounding 29 spots on NetEase Music and 66 spots on QQ Music, solidifying Noeul's position as a rising star in the industry.
To commemorate this monumental achievement, Noeul's team strategically orchestrated the display of the music video for "Love Geometry" on the illustrious big screen in New York City. This grand gesture aims to captivate audiences and showcase Noeul's exceptional talent to a global audience, further cementing their presence in the international music scene.
The success of "Love Geometry" is a testament to Noeul's incredible musical prowess, innovative style, and strong connection with their fans. The song's infectious melody, heartfelt lyrics, and captivating performance have resonated deeply with listeners, propelling it to new heights within a short span of time.
Noeul and their team are immensely grateful for the overwhelming support from their fans and the music industry. They extend their heartfelt appreciation to all the listeners who have embraced "Love Geometry" and helped elevate it to such impressive chart positions.
For more information and updates on Noeul and their latest single "Love Geometry," please visit their official website and social media channels.
Social Media Channels:
Instagram: @Noeullee_
Twitter: @Noeullee_
TikTok: @Noeullee_
For media inquiries, interview requests, or collaboration opportunities, please contact:[email protected]
Media Contact
Company Name: Beijing Zhiyuan Jijing Culture Media Co., Ltd
Contact Person: Jane Smith
Email: Send Email
Country: China
Website: https://www.qcc.com/firm/293f8bcbdf5c88a54913e29651469d9e.html